So you've chosen to open a restaurant in Singapore – congratulations! Competition is steep though, especially after COVID-19, so you need to be aware of many different aspects. This blog serves as a step-by-step guide to get you started and up-to-date on everything you need to get organised.
Start with a clear and thorough plan
Secure funding
Incorporate your business
Decide where to open a restaurant
Hire your staff
Get your idea off the ground
Marketing strategy
#1 Start with a clear and thorough plan
Having a clear plan is essential before starting any kind of business, especially considering the drastic changes the F&B industry has undergone. There are many key aspects to keep in mind, including:
Financial projections
Budgets
Operations
Branding
Marketing Strategy
Suppliers
Hiring policies
Service standards
All these facets are incredibly important as one false step could result in disastrous implications for your food business.
#2 Secure funding
Funding is integral for any new business venture. Without proper financing, it would be pretty tough to run a restaurant.
When opening your restaurant in Singapore, these are some of the things to consider from a financial perspective:
How much will opening your Singapore restaurant cost
What those costs are – break it down into sections such as rent, staff, equipment, etc
How you are going to raise the capital needed – investment, loans, self-funded, etc
The type of establishment you want will dictate how much you will need to spend. In Singapore, the cost to get a CloudKitchens®-delivery kitchen (ghost kitchen) up and running is S$10,000, while it is S$200,000 for a more traditional restaurant.
#3 Incorporate your business
Incorporating your food business in Singapore is a lengthy process and many factors have to be kept in mind throughout all stages of the process. To make this as easy and painless as possible, here is a brief summary of the most important steps:
First and foremost, you will have to decide whether your food business is a Private Limited Company or a Sole Proprietorship
Decide on the name of your business and get it approved by the Accounting and Corporate Regulatory Authority (ACRA)
All the necessary documents need to be prepared, including the company constitution and shareholder(s)' identification and residential details
A resident director will need to be appointed for the application
Ensure you have a residential or commercial address in Singapore on the application as PO Boxes will not be accepted
Submit all these to ACRA and wait for them to email you. The entire process will likely take 24 hours, meaning you won't have to wait long!
Note:
#4 Decide where to open a restaurant
Establishing your restaurant in the right location is imperative to survival and profit margins. In order to survive and thrive, these factors should be taken into consideration:
Which area is ideal for your business
Are you targeting a specific customer base
Who are the competitors already operating in the area
It is a different story for CloudKitchens® spaces as the providers that run them, such as Smart City Kitchens, have done all the research required and have already established a solid foothold in the densely-populated areas where their facilities are. This is where businesses that operate out of ghost kitchens save time and can hit the ground running almost immediately.
#5 Hire your staff
Hiring the right staff when opening a restaurant in Singapore can pay dividends as they will provide the service and overall dining experience your customers are looking for. Here's what to think about when opening your own establishment:
How many members of staff do you need
What positions are most important to the success of your business
How will you train them
While restaurants in Singapore require a team of around 15, which comes at a huge cost, companies that utilise ghost kitchens will need a smaller group of employees to cook the food. Most of the time, ghost kitchen businesses consist of 2 to 3 people, which is a big cost-saving measure.
#6 Get your idea off the ground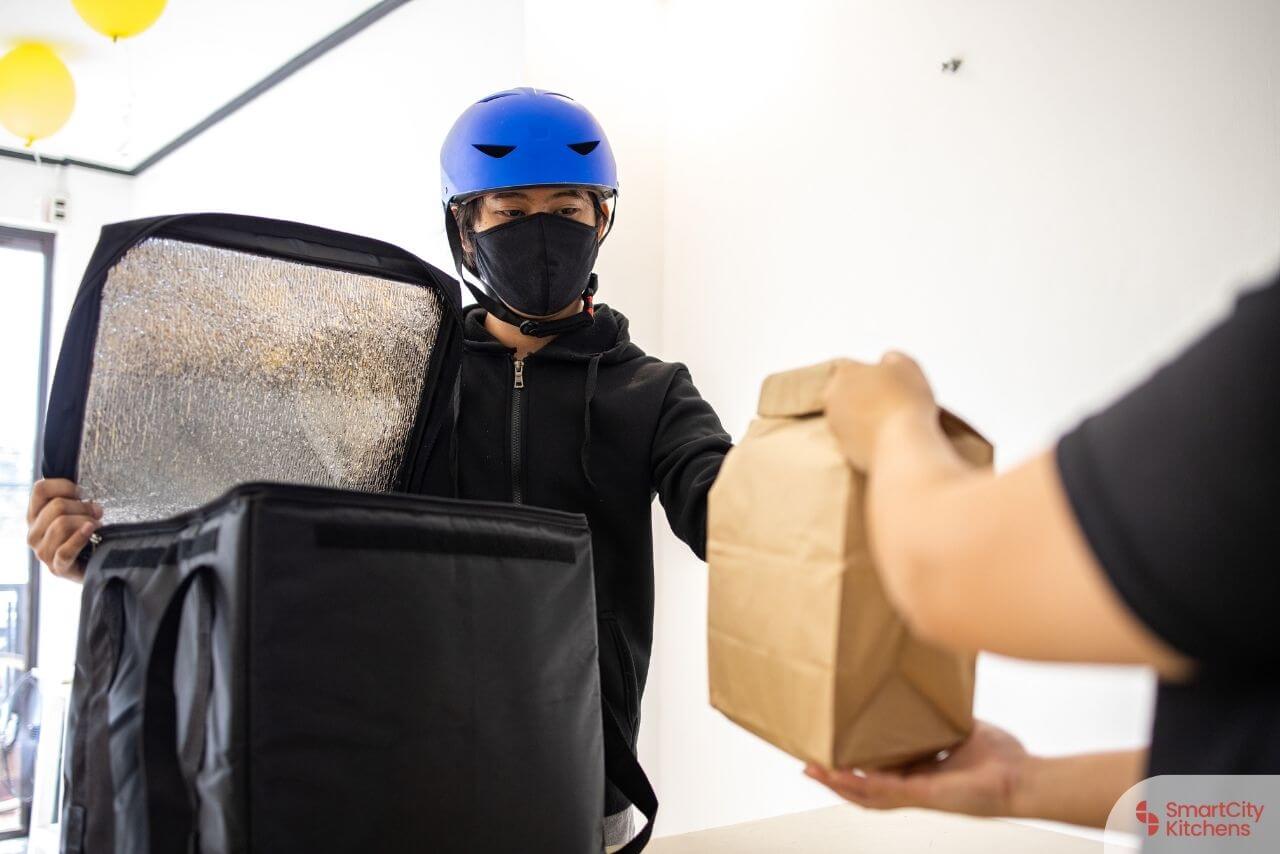 Many restaurateurs will be full of excitement when they discover the perfect location to open their restaurant in Singapore. However, before they can go any further, they will have to clear many more hurdles before they can finally open their doors, including:
Renovations – You want to ensure your restaurant looks the part before welcoming customers inside. So take the time to get the design and overall atmosphere spot-on as no one will return if the vibe is off-putting.
Insurance – No restaurateur will even think of launching their food business without insurance. Simply put, it is a receipt for a disaster.
Equipment – This is an essential part of any restaurant as, without it, you can't cook any food and provide the magical dining experience that will have your customers flocking back to your eatery. Do check out these 2 popular stores: Siahuat and Lau Choy Seng
Suppliers – Just like equipment, you can't cook up delicious dishes without the ingredients supplied by your suppliers. Make sure this is sorted before opening your doors to the public.
Basic Food Hygiene Course – Get all your staff and food handlers certified before launch.
Licenses – There are many that restaurants in Singapore need to have, such as:
Tenancy agreement – Towards the end of the food shop license application, you should start signing the tenancy agreement for your brick-and-mortar restaurant space or CloudKitchens unit. Remember to demand a copy of the landlord's title to the property to make sure you are dealing with the owner and the landlord is granting you the tenancy.
Staff CPF (Central Provident Fund) – You'll have to register as an 'Employer' with CPF as it's mandatory for all Singapore employers to contribute a percentage of monthly salary, usually at 16%.
Those who opt for a CloudKitchens® delivery kitchen don't need to worry about all this, except the equipment and supply of ingredients they need, as the operator of the facilities will take care of all the other aspects. This allows them to avoid facing any hassle and focus on fulfilling delivery orders in order to maximise profit.
#7 Marketing strategy
Marketing has become incredibly important in today's day and age. Many eateries that make it to the top have stunning, visually appealing websites and top-notch social media accounts that are updated frequently. When opening your restaurant in Singapore, it is necessary to start with a bang, and here's what to have perfectly nailed down in order to achieve that:
Online marketing – Website, social media, mobile app etc
Offline marketing – Leaflets, advertising boards etc
Website – Has to be appealing, have a good user experience, and be easy to order off
Soft launch – Promotions, special events, food sampling etc
Food businesses based in CloudKitchens® spaces also have to rely heavily on marketing and social media. Brands that thrive in one particular ghost kitchen can expand much easier and quicker than brick-and-mortar restaurants since their CloudKitchens® providers will have facilities in other locations where there is a burgeoning market to tap into.
Kickstart Your Restaurant Today
Now that you have all the information you need to open a restaurant, your dream of opening a traditional restaurant or CloudKitchens® business can become a reality. It's time to open your doors and give Singapore a taste of what you're serving- Fill up the form below to get in touch with us today!