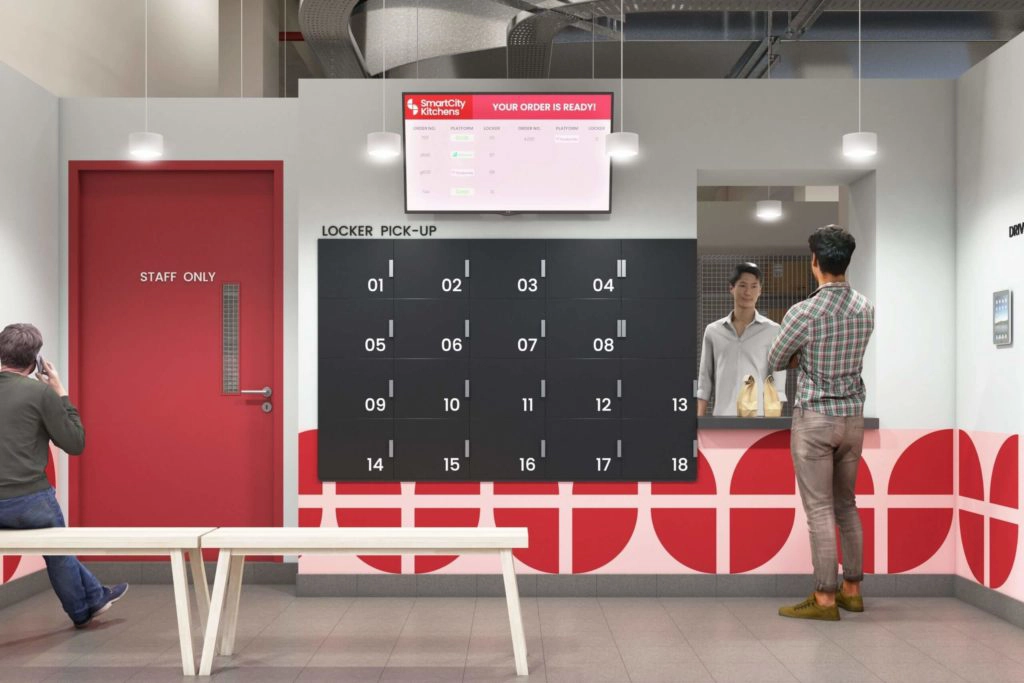 CloudKitchen® delivery kitchens have risen to prominence across the world as they offer a more affordable alternative to traditional restaurants. They are also being utilised by newcomers to the F&B industry that don't want to fork out a substantial investment right off the bat, or veteran restaurateurs that want to test the waters in a new market.
If you are seriously thinking of venturing down this path, here are a few things you need to know in regard to how to start a cloud kitchen in Singapore.
Selecting the best location
Location is everything when it comes to opening a CloudKitchen® delivery kitchen as you have to conduct a lot of research prior to pinpointing the area in which you feel your business would be most profitable. Take a look at what kind of food is lacking in that particular district and ask yourself if your restaurant will offer something unique that is on people's wish lists instead of just being another name in a sea of similar eateries. Based on this, you can decide the best location for you.
It's all about brand image
With CloudKitchen® delivery kitchens being completely online-driven, restaurants have to ensure their brand image and online personas are nothing short of perfect. How exactly is this done when you are just at the starting point of your journey to opening a CloudKitchen® delivery kitchen? Well, it comes down to two major factors:
Logo – This is the defining image of your restaurant. People may start to know you simply based on this, so it is vital that your logo sticks with people and is easily recognisable. Think of KFC or McDonald's for example, the minute you hear the name, you can picture the logo in your head. This is exactly what you want to achieve for your restaurant as it will be used across a wide spectrum – from your packaging to social media and delivery apps.
Packaging – Your packaging also needs to be attention-grabbing as you want customers to take photos of it and post it to their social media accounts. This way, more people will get to know about your restaurant and want to try out what food you're serving up.
Spread the good word
Since CloudKitchen® delivery kitchens have a business model that fully revolves around the online world, they need to find various ways to connect to people across multiple avenues. To do this effectively, they need to pay close attention to the following:
Social media – Virtually everybody uses some form of social media in the world today, so restaurants utilising this to their advantage should come as no surprise. It is recommended that they be active across multiple platforms, such as Facebook, Instagram, Tik Tok, etc. When posting content, don't just focus on the same thing over and over again. Instead, inject some diversity and provide a deeper look into your backstory, the employees you hire, the food you make and any special events or promotions that are going to be held. If you sprinkle some creativity into your content, expect to see a consistent stream of people checking out what you post and ordering from your restaurant.
Partner with influencers – Given the massive fan following these guys have, it's a no-brainer for restaurants to reach out and partner with them. One of the best ways to get people to know about you and your business is to have influencers share what they ordered from your eatery and do a food review. Furthermore, you can centre a promotion or discount around them in order to get a boost in orders.
Well-maintained website – Having a website that delves into all aspects of your business is incredibly important as it allows you to connect with your customers on a more personal level. Make sure there is a dedicated section for an online menu so people can see what type of cuisine you specialise in, an about us page that touches on the history of the restaurant and a blog section that offers captivating content about the F&B world.
Weekly/Bi-weekly/Monthly newsletters – You may be wondering whether people still read newsletters in this day and age. Many still do, which is why it is worth investing some marketing effort into this avenue. Be sure to include anything and everything that you want to make some noise about. Whether it's new menu items or promotions, all of them should take centre stage in your newsletter.
Reviews – So many people look at the online reviews left by other customers before they decide to order food from a restaurant. Regardless of whether it's on Yelp or social media, having positive reviews about your food is a guaranteed recipe for success. One bit of advice to heed is that you should always reply back to any review left, even if it's negative, as it shows people that you care about your customers.
Stay on top of everything
Since your business's reputation is everything, you have to ensure it is well protected. In order to achieve this, there are a couple of steps that need to be taken, such as:
Keeping your menu up to date – If you add new items, make sure this change is implemented across all platforms where people can view your menu. Furthermore, if a specific dish is out of stock or no longer available, you should provide an update so that your customers know about it.
Providing proper waiting times – Customers do want their food as soon as possible when placing their orders. However, the last thing you, as a restaurant, want to do is lie about how long it will take to deliver their grub to them. If you ever venture down this path, you're headed for absolute disaster!
Using the latest technology – If you want to know how to keep track of all orders coming through when starting a CloudKitchen® delivery kitchen, many providers like Smart City Kitchens offer up-to-date technology that allows restaurants to see all orders on one tablet, even if they have partnered up with numerous food delivery companies.
The number of staff
When you start a CloudKitchen® delivery kitchen venture, one of the outstanding questions many restaurateurs have is knowing how many employees are needed to fulfil all the orders that may potentially come through. You can start small and grow your team accordingly. What can be said is that your staff costs will be nowhere near that of a traditional restaurant as you won't have any need for waiters, bartenders, general managers, etc.
Why opening a cloud kitchen is a good idea
There are plenty of benefits associated with launching a CloudKitchen® delivery kitchen. Here are a few of the major advantages:
Reduced costs – From employees to rent and equipment, the costs of opening and running a CloudKitchen® delivery kitchen don't come close to that of brick-and-mortar restaurants. In Singapore, the approximate investment needed to launch a CloudKitchen® delivery kitchen is approximately S$10,000. For normal eateries, it's around the S$200,000 mark.
Get started almost immediately – Since most CloudKitchen® delivery kitchens providers have kitchen spaces that are virtually ready, all the restaurants moving in need to do is get their equipment in place and implement any small changes that need to be made. Due to this, they are able to open their doors in 2-4 weeks, while normal dine-in restaurants require approximately 24 weeks before they can start serving customers.
Everything revolves around food – Businesses running from a CloudKitchen® delivery kitchen can focus all their attention on making sure their food is of the highest standards. While traditional eateries also pay attention to this, there are many other areas that require their attention, including the well-being of their customers and ensuring their staff are doing a good job.
Interested in opening a cloud kitchen?
Now that you are armed with all the information needed on how to start a CloudKitchen® delivery kitchen, you can weigh up the pros and cons before deciding if this is the right venture for your F&B business.
If you are intrigued by the prospect of launching your very own CloudKitchen® delivery kitchen in Singapore, please complete the form or reach out to us.