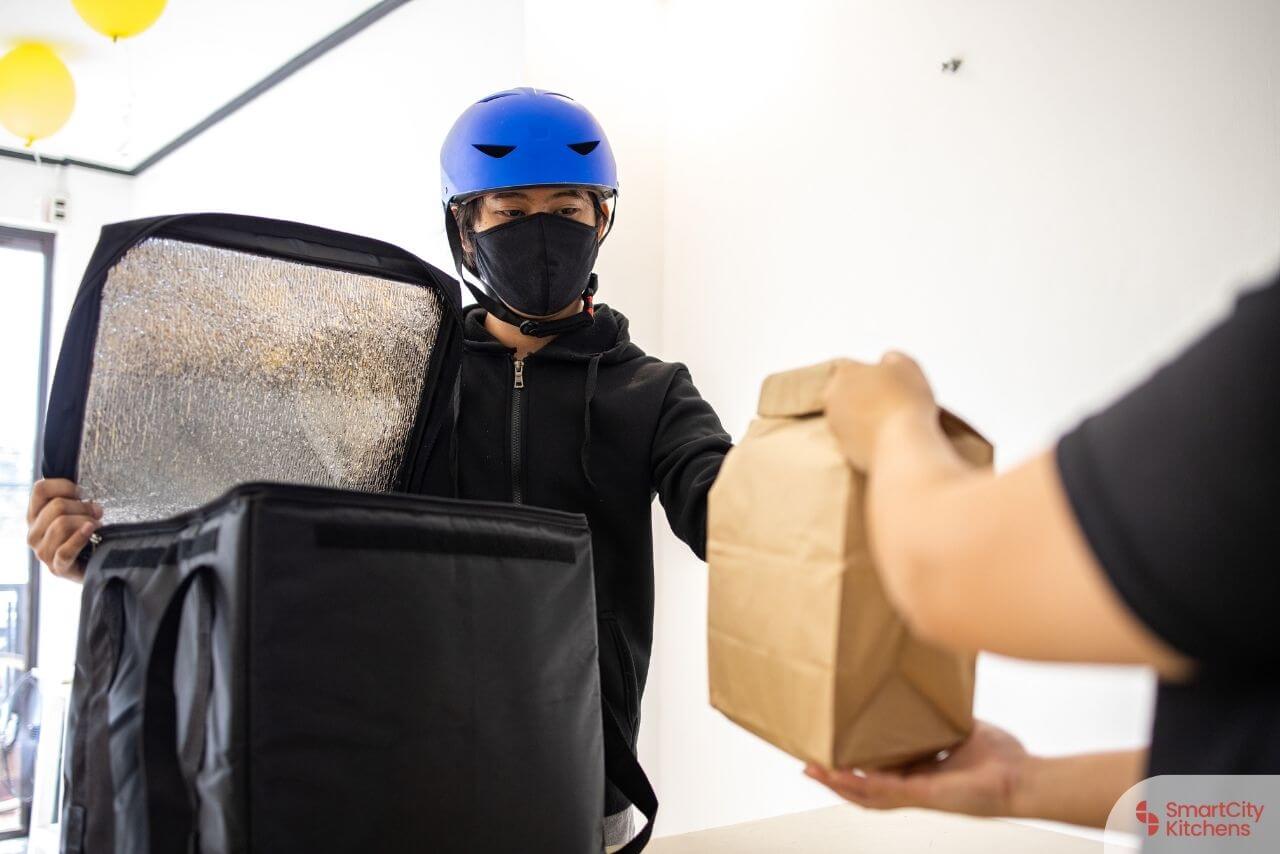 CloudKitchens® are the newest and hottest trend in the F&B world. They offer food delivery businesses the chance to modernise how they serve customers and reap the benefits of the booming food delivery world. It's a low risk, high reward solution to the downturn in dine-in orders, and allows you to pivot your restaurant business into a new era of dining. But not all cloud kitchen spaces are the same – and they certainly aren't a one-size-fits-all solution. 
The cloud kitchen concept is best thought of as the building blocks of a new and streamlined kitchen. By definition, they are kitchen spaces that typically have no dine-in space at all for customers – and rarely offer takeaway services. The majority of what a cloud kitchen does is fulfil delivery orders together with third-party delivery companies like Foodpanda, Deliveroo, and GrabFood. In doing so, they can operate in cheaper areas away nearer to residential areas, work with much smaller and efficient teams, and prioritise cooking food in the most convenient, cost-effective, and professional way possible without sacrificing quality. 
CloudKitchens® operators like Smart City Kitchens offer a variety of ready-to-go kitchen spaces that come with new and innovative technology, growth support, and much more.
The following are some of the main types of businesses that we've seen work in our spaces, as well as the type of brands that inhabit them:
Local entrepreneur/startup
Home based-cooking/baking
National chains 
Regional and international chains 
Drinks/dessert brands 
KIV (keep in view) kitchen
1. Local entrepreneur/startup 
For small, local businesses and startups, our cloud kitchen spaces can be the ideal solution. Moving into a location with lower upfront and operational costs allows them to experiment and start testing different strategies with much lower risk and at a faster rate. These kinds of brands can get started in a cloud kitchen for as little as SGD$10K, a small figure compared to the SGD50K-$600K of many dine-in restaurants. On top of this, they can easily scale up – and down – by just talking to us and taking advantage of our short-term leases. 
Notable local brands and startups in our cloud kitchen spaces in Singapore include Tai Feng Wei, Swee Choon, Huevos, and Wholesome Farm.
2. Home based-cooking/baking
Certain home-based cooking and baking brands can make great use of our CloudKitchens® spaces, but in a different way. Especially in light of COVID-19 restrictions, home-based food brands need to conform to a list of food safety regulations including contactless delivery, appointment-only collection, cashless payment, and more. Not to mention running a home-based food business like this means you can't unload or load your goods via truck or van, can't recruit any employees, among other complications. 
For these kinds of businesses, our CloudKitchens® offer a way to streamline processes and act as a stepping stone into a fully-fledged F&B business. Brands that have taken this route in our spaces include Gracious Natural, Taishike, Suguru, and Pourabucha.
3. National chains
For national chains, CloudKitchens® spaces promise a more affordable route to expansion. These types of businesses may have one or a few locations already, but can't quite justify the upfront costs needed to expand into new neighbourhoods and areas in Singapore that they're not sure will be beneficial to them. With CloudKitchens®, they can expand into all these new neighbourhoods and target more suburban locations filled with hungry customers – all without too much risk. Some chains that have used our cloud kitchens to expand in Singapore include PastaMania, Eighteen Chefs, Poke Theory, and Da Paolo.
4. Regional and international chains
The benefit of CloudKitchens® also extend to regional and international chains. These types of food businesses benefit from cloud kitchens in that they provide a means for entering a new market at a significantly lower cost. CloudKitchens® spaces offer them a way to enter a new market, run a food delivery business with advanced technology, streamlined processes, and more. This is a marked benefit, especially during a time when dine-in restaurants are either closed or a less appealing option for people trying to avoid COVID-19. International chains that have used our kitchen spaces to enter the Singapore food delivery market include Jollibee, Dickey's, Mos Burger, Popeyes and Guzman Y Gomez.
5. Cold/dessert brands
Cold and dessert brands are another type of business that uses CloudKitchens® in yet another way. At Smart City Kitchens, we welcome them to use our kitchen spaces primarily as a storage location and a way to gain access to a bigger market. In doing so, they can pay lower rates and grow their virtual brand as they sell to more residential markets for food delivery. Example brands using our CloudKitchens® this way include An Açaí Affair, Woobbee, Bober Tea, and Milksha.
6. KIV kitchen 
CloudKitchens® can also be used as primarily a storage location for your food. These KIV (keep in view) type kitchens benefit from all the food licenses and storage equipment we have pre-fitted in our spaces. When needed, these ingredients or dishes can be transported at a moment's notice, while our team will handle all the upkeep work like cleaning, insurance, and more. 
Get in touch
Still wondering if you own one of the businesses suitable for a CloudKitchens® space? Fill out the form below to learn more from our kitchen specialists today!